Commercial Locksmith
Back To Our Services
With so much at risk with concerns to your business, keeping your premises secure should be a priority for any business owner. But the colossal task of ensuring that only those who have authorized access to your offices can come and go, while keeping possible intruders out is no easy one. Not without the assistance of a commercial locksmith company that you can rely on to get the job done right. So, whether you need high security locks, lockout solutions, a keyless entry system or just simple installations or repairs, be sure to contact us at Locksmith Santa Ana for more information on the services we offer.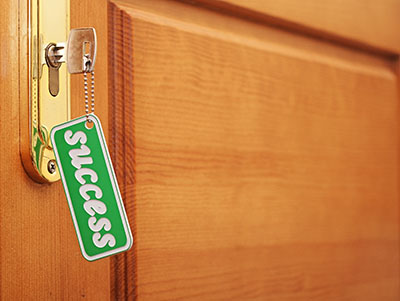 Installation of High Security Locks
Your office houses expensive assets and important information, making it a target for theft and infidelity. For this reason, it is essential to have it secured with door locks that are up to the task of deterring would-be intruders from your premises. Door-entry systems such as master keys and keyless entry locks will give your office, factory or retail outlet the protection that it needs to keep your stock, documents and assets safe from theft and damage, so call us now if your business needs additional security.
Re-key Your Office Locks
With so many people in charge of the office keys, there is always a risk that they could go missing. This will put your place of work at risk. Since there is no telling who could be walking around with a set of misplaced office keys, it is essential for your business's security to have them replaced as soon as possible. So, speak with one of our professional locksmiths for more information on having your office's locks re-keyed when the need arises, and you'll be able to have confidence in your workplace security.
Lock Changes and Repairs
When your office's door locks get damaged, it increases the risk of intrusions and theft which may end up costing your company a great deal of money. For this reason, it is essential for business owners to ensure that any damaged exterior door locks are seen to as quickly as possible. Whether you need to have a broken lock replaced or simply need to have it repaired, our highly-trained locksmiths are the perfect choice for lock replacements and repairs.
Commercial Locksmiths for Lockout Solutions
A lost or broken office door key will cause expensive interruptions to your workflow since it will limit access to your premises by your staff. Since time is money, having a commercial locksmith on hand who can offer you lockout solutions in good time is essential for any business owner. If you or your staff are having trouble getting into your place of work, be sure to contact one of our smiths for assistance with getting back in.
Call Us Now
So, give our consultants at Locksmith Santa Ana a call today if you require assistance with any of the door locks or security measures in your office, retail store or factory. We are dedicated to ensuring that the security of your workplace is at its best, so speak to us today for more information on our services.